Demo Mode
Demo Mode simulates an EchoAccess Interface or Echo Expansion Bridge, allowing you to explore the EchoAccess Mobile App features when no EchoAccess Interfaces or Echo Expansion Bridges are available. To access Demo Mode, you must turn on the Demo Mode switch in the Settings menu.
Tap the Main Menu icon

located in the upper right corner of the EchoAccess Mobile App screen to display the Main Menu options. In Demo Mode, the same options appear as the standard Main Menu when connected to an Echo control system.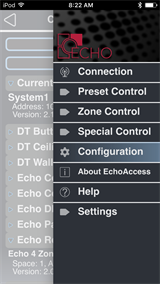 About EchoAccess displays the version number of the EchoAccess Mobile App software
Help opens an Internet browser window and displays this online help system
Settings provides switches to enable or disable Demo Mode, Bluetooth Discover All Devices, and the Version Mismatch Warning, as well as access to Manage Files for sharing and deleting of saved configuration files from local storage on the mobile device.