EchoAccess Interface
The Unison Echo® EchoAccess™ Interface is the wall mounted station that works in conjunction with the EchoAccess Mobile App, using Bluetooth technology to configure and control Echo presets, zones, spaces, and devices.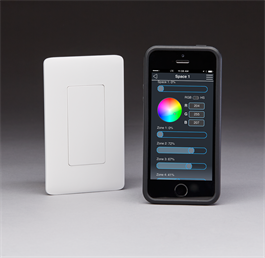 Note: When using Bluetooth, ETC recommends a wireless operating distance of no more than 30 feet between the EchoAccess Interface and the mobile device running the app. Walls and other solid objects positioned between the transmitter and the receiver will impact the transmission of the wireless signal. Avoid obstructions when possible.
For more information on installing the EchoAccess Interface hardware, see the applicable installation guide. ETC's printed documentation is available for free download at etcconnect.com. <![CDATA[ ]]>
Wink
Options are available to [Wink] an EchoAccess Interface that has been discovered by the EchoAccess Mobile App, viewable on the Bluetooth Connection page.
Use the wink feature to determine which EchoAccess Interface to select when more than one displays in the connection list. See Wink for more information.
Configuration
To configure the EchoAccess Interface you are connected to, select Configuration from the EchoAccess menu, then select the EchoAccess Interface from the devices list. When viewing the device list in default sort order, the EchoAccess Interface you are connected to will be the first device in the list.
See General Configuration and Space Configuration for information on the device's configuration settings.